Last minute submission!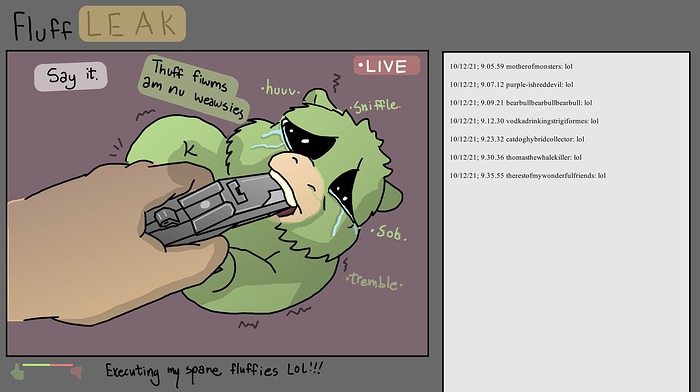 theme week
"Before I shoot this fluffy, I just wanted to tell you guys about Nord VPN!"
smash that like button and subscribe
Livestreaming this is cool and all, but you know what would be even better than this?
Raid: Shadow Legends.
Lmao






Would doing this to an alicorn (in headcannons where people care about those), be the equivalent of smashing a PS5 for clout?

early to mid mass fluffy release maybe, but late game i doubt people would care since fluffy populations became so rampant
WHAAAT WHY YOU SHOULD'VE SEND IT TO ME WHYYYYYY???





No, because a PS5 has some widely accepted worth.
Alicorn fluffies are just crap some maniacs spend too much money on, like Hummel figurines.



the views for that stream will be in the 50k+ views
Turn table: it's one of those toy guns where bubbles come out
However: wawa bad fow fwuffy, so it drowns instead
Even when people care about alicorn, can you shoot electrons through them to make math?
No. PS5 > Alicorns.
Case closed.
the decision is always easier when you are a gamer
What about smashing a S U P R E M E brick to powder? Roughly the same functionality as a fluffy, and sells for obscene amounts of cash.
Gamer Time