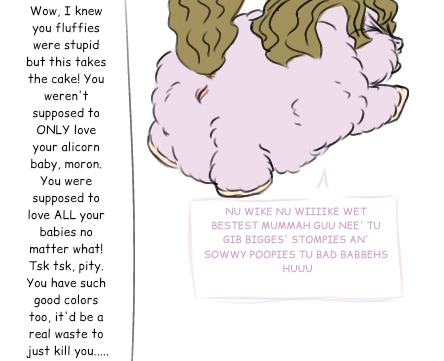 Worstes upsies will promptly be followed by worstes hurties.
This is so sad. Can we smash her against the floor plz?
I think Moonie has something worse in mind.
Just get rid of the legs and turn her into a breeding pillow.
Don't need legs or speech to give birth. Leave the eyes and hearing so she can see her offspring feeding and listen to the lessons where she's the evil monster for being a baby-smasher.
I don't know, in abuse I prefer an apeshit monkey style, wich for the most part consists of anything you can do with your bare hands. It has a greater stress reduction for me
This is fine.
Breed some standard Fluffies, and use her as an Alicorn nurse. Or manipulate her, tell her non-Alicorns have use to make Alicorn lives easier (the conceit being its their sale price paying for her and the Alicorns) or something.
Primal rage is pretty nice, but I prefer the slow descent into despair, with regret poisoning their mind and the dull ache of hopelessness reminding them of their mistakes.
eh, I'd say the colors aren't even all that nice, they're okay but nothing spectacular enough to save her.
She was mostly referring to her coat, but yeah shes not pretty enough to spare.
even the coat, while nice enough, isn't really spectacular. So if she just produced a "shit" litter or two I'd say its still worth it keeping her around for the possibility of getting a foal with a similar coat. But baby killer and mega-bitch, she'd need a golden coat with a shimmer and rainbow mane to really be worth it, at least in my opinion.
I actually have a fluffy who has a metallic gold coat with a pearly white mane who is an alicorn. It was originally gonna be Petula but I thought it'd be more fitting to have her be a white fluffy like Mystic because it's her that inspired her to believe that white fluffies like them are superior to everything and every fluffy in the universe.
So…she's a racist mega-bitch…but shes a pretty and rare all white albino fluffy which has more worth than Mummah Mophead here could ever dream of having.
Whats that one thing all humans have? Cuteness Aggression? Yea, thats how I feel about these fluffs
i want to see her call her owner a dummeh.
If legs are the problem, just take them away. Can't stomp the foals if she has no hooves.