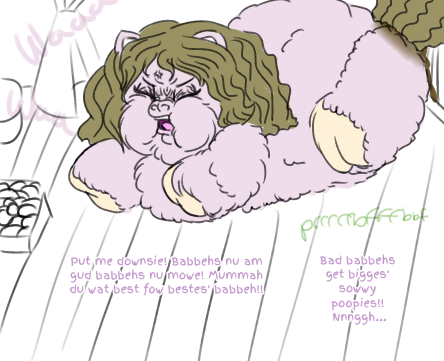 This fluffy looks like someone I saw at Walmart one time.
Pretty sure we have the same walmart, I swear to god I saw a woman like that down to the hair and lingering smell of feces.
This is what happens when you let TV raise the kids.
Spongebob made a generation dumber and less ambitious.
You know we are talking about retarded fruit horses, right?
I'm gonna have to disagree with you on that one chief; the problem isn't Spongebob, it's the parents that aren't parenting.
Is that so? Well, you are a bad fluffy, so you get sorry poopies too, right?
It sounds like you are simply trying to justify your own dislike towards the show.
It put a mentally handicapped minimum wage worker on a pedestal as the hero while showing all characters who are more intelligent as negatives.
Spongebob taught kids to be stupid and accept the bare minimum. There's no way that didn't worsen the next generation. Americans already have a cultural anti-intellectual stigma these days.
Hey, I saw that show for what it was when U was ten and it premiered.
The fact its gone on this long shows just how much people clearly wanted an anti-aspirational hero for their kids.
Yo! Is this a new style? It's excellent, and I'm really glad to see it.
I'd say it taught kids to live life positively, no matter your situation. Spongebob isn't a hero, he's simply a person and that's the point. He's average. He continues to fail his boating license test but that doesn't stop him from having a good day and trying again. He enjoys the simple pleasure of jellyfish catching, or hanging with friends, or playing with his snail. He makes his life enjoyable.
Ya he's a fry cook, but he loves it. And why shouldn't we like the minimum wage worker? It's a job, and most minimum wage jobs aren't desirable, but someone's got to do them. Who should kids look up to? The money hungry business man who abuses the staff, screws over his employees, and will do anything to get ahead; seeing his customers as nothing more than walking wallets?
Intelligence and negativity also have little connection in the show. Squidward isn't smart (he thinks he is, but he isn't), and he's the most negative of all of them. The other largely negative character is Plankton, who is smart, but is too obsessed with the krabby patty formula to enjoy life. Both Plankton and Squidward chose to be negative. Sandy Cheeks on the other hand, is a pretty damn smart character, it's one of her most defining traits; but she is also able to enjoy herself. She does what she loves and works hard.
But most importantly, Spongebob Squarepants is a cartoon, created by a marine biologist, about a talking sponge, who's best friend is a starfish, living in a pineapple in the sea, and making hamburgers in a crab trap. Things are taken to cartoonish extremes, and no one is suppose to be getting their life goals from it. It's no different from the early Mickey Mouse cartoons from the early 1900s, or Looney Tunes from the mid 20th century. They make people laugh.
Time to make her live in the litter box if she wants to shit so much.
With all respect, if Spongebob as a kid's cartoon was enough to do in an entire generation, I'd say society had far more problems to begin with.
She's a McGonagall breed fluffy, so…yes and no? I gave my own spin on it.
Inspiration =/= Unoriginal. You did the original work justice while also showing off your own unique talent.
You did a damn good job with it, especially that awful poopie butt.