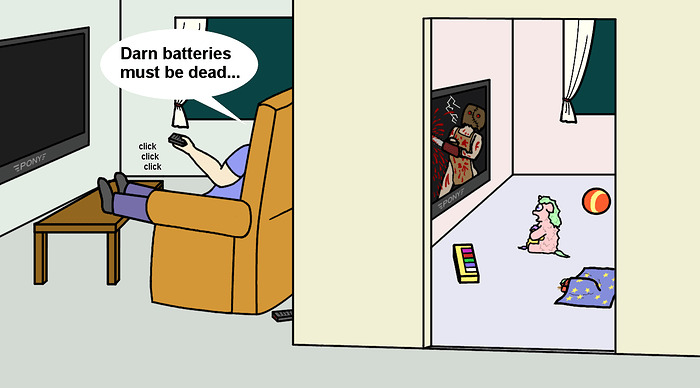 Off topic, I noticed that no one has posted my art in Reddit in a long time. I'd really prefer if everyone got off that cancerous site and came here, but since that isn't happening feel free to post my art there too. After all, "the healthy don't need healing but the sick", and having your art shared around is always good in the first place.

My only request is that you pace them out so they have time to gather as many comments as possible. Those really are worth more than gold to me!

Now I want to see a fluffy playing resident evil lol
There's gonna be so. much. SHIT.
Yes.
Teach it to kill.
Be the slasher, not the victim.
I lpve how the average FluffTV is only ever one misclick away from turning over to GoreTV
Part of me thinks oh god that fluffy is going to panic the fuck out. But then part of me thinks…

What if she actually is really metal and loves gore.
It's the next station always
That fluffy's face

Weeeeelllll, maybe not everyone on the subreddit.
A huge percentage of them are great.
But there are a few that shouldn't come here.
Thanks! I might do that. I am going to the reddit sub sometimes. I've actually had a roachqueen reddit account for a couple years, but just stopped using it for a long time until just recently. I am going to post my imgur archive collections like I did on the 'booru before. I just yesterday posted my Quickhorn archive there.
Buh yeah, reddit sucks ass in general. I miss the days of forums and BBS. Much better communities back then.
fak, where do you guys get so much ideas like that :v
this is pure genius ;V
@infraredturbine I have infinite ideas to share, as I can't make even a fraction of them myself. If you need something to draw, I can come up with new ideas of any topic and any box on the spot!


The look on the pink fluffie's face is pretty hysterical to me
Thanks man, I love your comics

no sorry poopies
but surprised expression
Conclusion: daddeh has corked this fluffy.
Smart daddeh!
hey im just there (mostly) for the memes
I believe the term is slashee