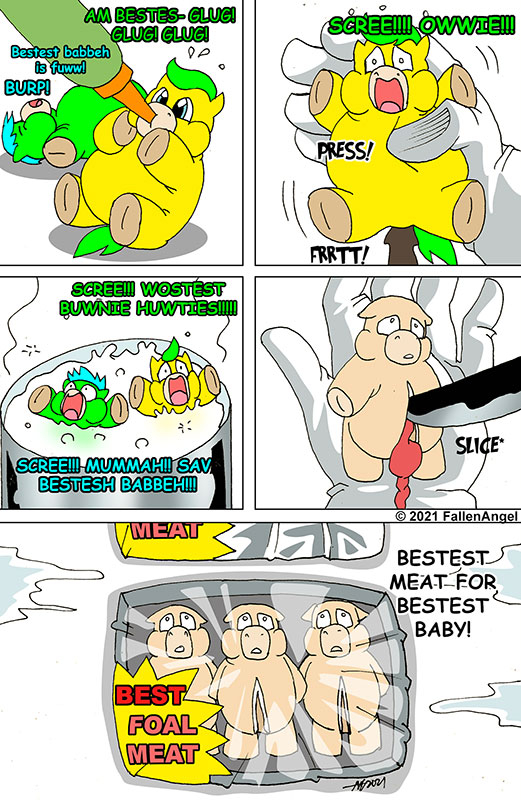 Well he was the best.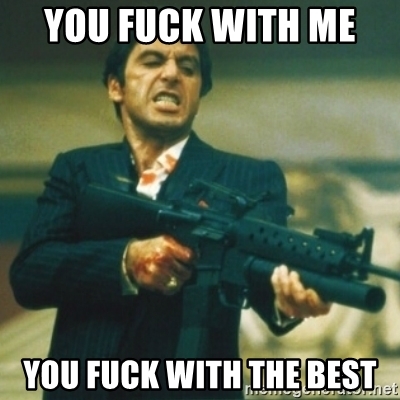 Well, if any foal meat would be the bestest nummies, it would be bestest baby meat. They got extra nutrition and attention from their mothers, well-fed low-stressed animals are gonna make better meat. Finally bestest babbehs have some use.
Doctor Marbas)hmmm I could use these in a few ways but for a stew it will be today
If only the mamas new that calling a babbeh bestest, would lead to this. They'd still call it bestest and tell you to take, kill the poopie babbeh
That's when you just smile and figure out which is the best babbeh anyway make a guessing game of it and take all three to your kitchen strap down the mama and proceed to cook the bestiest baby and feed it to them
The bestest meat from the bestest babbeh is great for BBQ, thanksgiving, christmas eve dinner and new year eve dinner.
And for you Libra don't kill the Brown foals just give to someone to take care of them, for example me
And my samael would lov to adopt more brown or poopie babbehs those are the only ones he adopts anyway he kills and tortures the others
At least the brat was useful for something, And I hope the mother saw that happened to her "bestest-babbeh"
Bruh I'm dieing, here I thought this was gonna be like a 10 part series on fixing bestest babbehs, but nah make em fluffy meat. KEK
In my headcanon, eating fluffy meat was actually proven to be detrimental for humans. It is kind of sort of cannibalism, and that's been proven to be bad for humans in real life. It's not that tasty either, at least to humans. Their blood tastes fine to vampires, because, again, fluffies are part-human, and vampires prefer the blood of their former species. And demons don't give a fuck about how bad fluffies taste.
Fluffies can still safely eat their own, but most fluffies either don't like it, because they were engineered to not like it by Hasbio, or, in many cases, because they don't know that they're eating other fluffies, because that's what the cheapest fluffy kibble is made of. Obviously it's got artificial flavoring out the ass. Fluffies who actually enjoy eating their own are still a thing, but they're uncommon. Usually, in my headcanon, a fluffy has to be pushed really far to actually start liking eating other fluffies. And a feral mummah might eat her young, if she knows they won't make it anyway, or if she's not paying attention to what she's numming.
It was the besttes until the end hahaha
This could be right out of my headcanon, and I don't mind one bit!
That took a turn I wasn't expecting, but one that left me pleasantly surprised.
bestest food for bestest babies for bestestestes nutrition for bestestetstetettetetstettstee
That's not a bad depiction of what that bebbeh's brain must have done as it cooked.