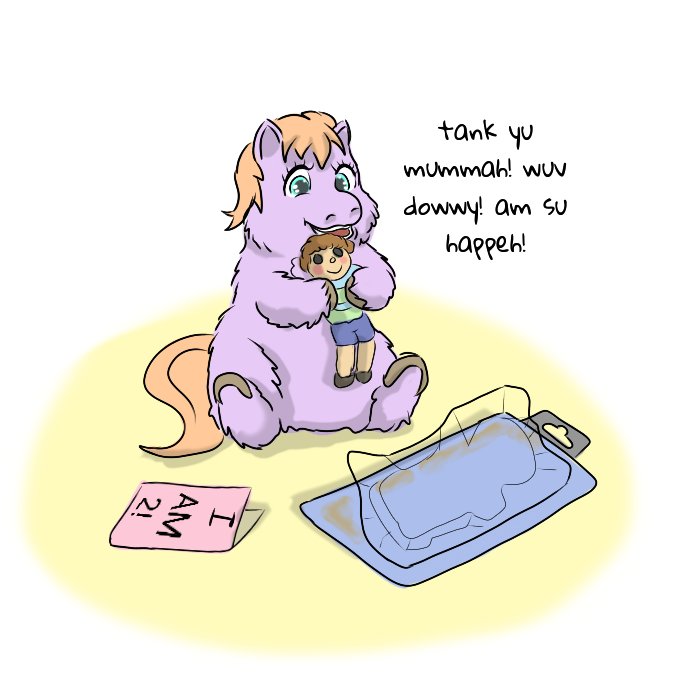 Awww… happy birthday, little one!
(Now I can imagine Bonnie having a dowwy like this one, Carp!)
I imagine the fluffies would be terribly confused about dolls in these clear sorry boxes…
This piece was inspired by Bonnie and her doll!
It's really endearing. Is the fluffy drawn in a new style?
Aaaaw! And those little hooves!
Celebrating a fluff`s SECOND birthday. Eff you. This melts even my dead heart. That birthday card was the perfect touch. Too cute.

I saw that as I Am 21, lol. A shiteditor could replace the ! with a 1, and the doll with a pint.
I've been looking at the recently posted Babbehteef pictures, I really enjoy mixing up styles every now and then.
@babbehteef really has a nice style! And I can see the influence on the hooves in this image, as well as the snout!
~
:o
Oh snap! Gee, I really should get back to #little_avocado - I've held it off to focus on Supah Fwuff, but I alsow ant to write #doting-bonnie again too.
Lol, that would be an absolute miracle. I imagine a particularly well-cared-for fluffy would probably be able to eke out 12-15 years before croaking, but even 2 years is remarkable for your average domestic fluffy, given their propensity towards getting into accidents or angering their owners into causing "accidents" for them.
I find this two years idea too exaggerated, especially for the more hugbox-y canons and stories that I like to focus upon.
12-15 years? I doubt it, personally. Given how Hasbio is depicted as being a living stereotype of corporate America's worst excesses I imagine that they at least tried to implement some kind of planned obsolescence into fluffy ponies in general. I'd put their life spans probably closer to rodents than something like a dog or cat (it would also explain why they have such a high fertility rate in general aside from the need to compensate for having intellect at the expense of instincts). Easier to move lots of inventory, and nab a continuous stream of revenue, if you're capping your Frankenpets out a few years after they're born along with all the merch you sell alongside them.
As ever, though, this is an adorable piece. Wonderful work, carpdime; it's always a treat.
Hasbro sells something overpriced to you once, then an improved one much more expensive when nostalgia hits.
Too short a lifespan and the customer doesn't have the memories to make them buy Fluffy Black Series Generations Legends Lightning Collection for double price when the midlife crisis hits.
Plus, as the old toy sale adage goes, most of the money from the kids comes from the accessories and play sets. Meaning toys, food, medical care for long-lived Fluffies.
That's the part that got me the most too, along with its genuine appreciation. Guess I'm a hugboxer now

It seems like the longer people stay here the more they tend to appreciate hugbox.
I can't believe it, but yes this happened to me. Weird!!
@Carpdime i love this new style!!