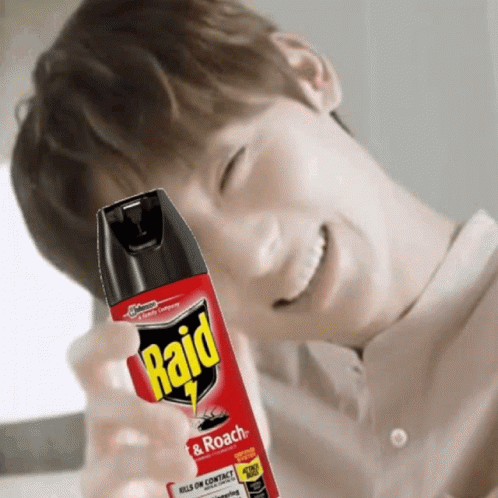 At least it was bees and not wasps. I figure that a wasp variant would be their version of a Smarty due to its sheer aggressiveness and willingness to attack anything.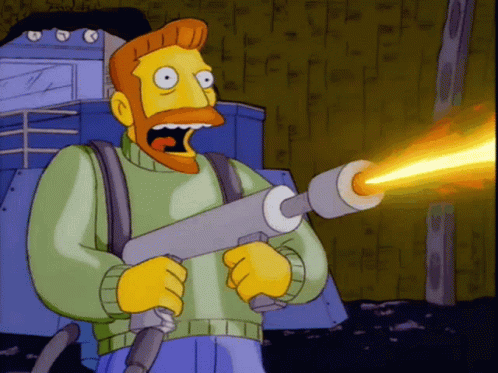 brilliant.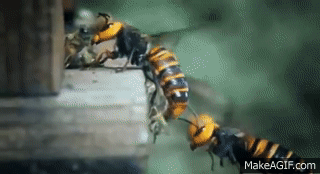 I want them to meet the japanese giant hornet, those wasp are at least the size of a human finger and are known to kill humans.
I'm pretty sure these wasps will keep them at bay and control their population.
Nah, that'd be the Africanized Buzzfluff.
In all seriousness, it honestly saddens me that people think wasps are out to get them or even worse, that they're somehow useless.
Wasps terrify me too, but I don't hate them because of that. I respect them for what they do for the environment (eating pests and pollinating) and give them a wide berth.
you know…the solution to that would be a parasitoid wasp or the japanese giant hornet.
both are brutal in their savagery and attack in their own way.
I mean with the parasitoid wasp, their larva would slowly eat the smarty alive and even mind control it to some degree or be paralized, in a literal sorry box underground and then eaten alive by larvas, only for them to slowly explode out of its body as fully grown parasitoid wasps.
or the japanese giant hornet would utterly fuck them up in brutal fashion, biten, stung with painful poison and tore apart by these relentless and ruthless fuckers, the worst part for it? not even humans would be able to help it even if they wanted to.
They don't attack humans unless provoked or if they otherwise feel threatened. The people who died from being stung by them were either messing with them or very unlucky.
Fluffies would definitely provoke them, though, because fluffies are naturally retarded. So even a wasp that wasn't hungry would sting them. lol
I know, wasp are a thing to respect.
I don't mind them but if they attack me I'll respond in kind.
though…it wouldn't surprise me if some smarty or even a regular fluffy would make them attack and kill them.
also the fluffy bees would definitely be a prime target for wasps as they'll be virtually defenseless.
ironically their only defense would be the same as the japanese bees, they'll over-heat them via hugging them and buzzing.
so your bee fluffies would be even better equipped to deal with predators than even normal fluffies.
I can see that smarty now. lol
"DUMMEH BUG-MUNSTAH! DIS AM SMAWTY WAND! GUN GIB YU SOWWY-HOOFSIES!"
And then,
"SCREEEEE! BIGGEST BUWNIE HUWTIES!"
didn't wasp have pheromones that let them remember who to sting the next time they see?
depending on the species of course by wasps and hornets can hold a grudge.
so even if the smarty get away or survive, those fuckers will remember him and sting him the next time they catch a whiff of him.
imagine the smarty minding his own business when he suddenly out of nowhere it's attacked by wasp again.
bit and stung, that would suck.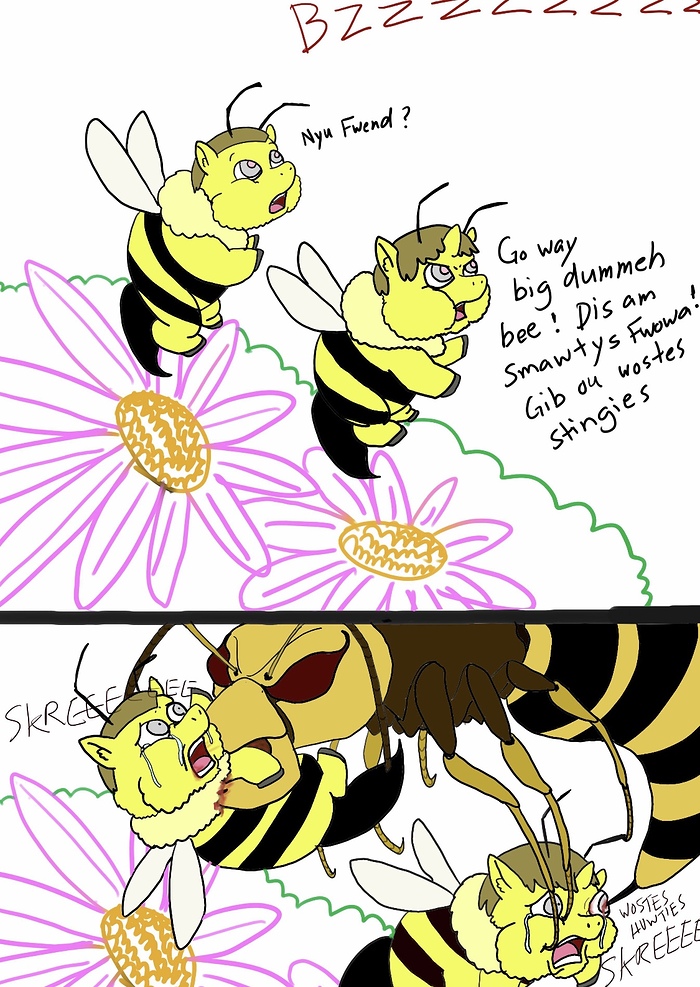 EDIT: someone by the name Weston Hafsen did a wonderful job picturing it.
I'm not eating honey made of fluffy vomit
Around this time of year, wasps become fairly aggressive, especially around sources of sugar. Problem comes up quite often at my workplace.
All instinctual, of course, & not to be taken personally.
The idea of a hive society with members capable of speech is certainly disturbing.
Smarty sky*?
I mean, "smawty skwy"?

Wildbow wrote a story where one of the characters controls insects, and of COURSE she has hive voice (i.e. Having them all buzz/click/etc. just right to imitate words). Actually, I don't think this went nearly weirdbox enough. Imagine if the hive itself was the fluffy, not a collection of fluffies.
Awh they're so cute I love the little dudes. Wish there was a little danceh bee
fun fact that no one cares : if bee can sting it's because it injects their vestigial genitals into their victim. Therefore, drones and queens can't sting … well because they have a use of their genitals in a different way !
Whoa! Those guys are big! A sting from one of them would really do some damage.