Time to teach some lessons then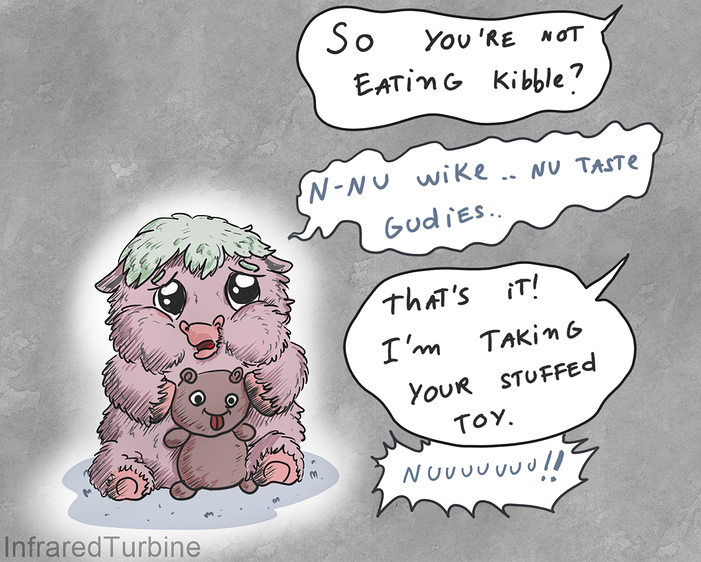 ---
For commissions, illustrations and so on, feel free to contact me any time!
To be fair, starvation is it's own punishment and teaching process.

Hunger is the best spice.
---
Maybe if they'd cooked and fed the toy to the f1uffy.
Well yeah.
That's the next step.
he should be grateful for any food at all! Thats what you get you little spoiled brat lol

Ugh. But he's so stinkin' cute. The stuffy however…
Hunger will teach him.
Next step is to feed him the stuffed toy.
Typical brat at that age need some learning, tell you to eat - eat!

I'm BURNING your stupid toy.
BTW this foal design is superb.
Seems a bit extreme. Better to just take his weggies that way he can never hug him.
Is it actually bad kibble, like really cheap garbage stuff with the nutrient content of library paste and a taste like old sawdust?
It might not really be a bad fluffy here. It might just be getting fed horrible stuff.
Well, let's see if his/her tone changes if they had nothing to eat!
Or spoiled by the mother before being adopted, look at it, so cubby and round. I do love open interpretations
That face is both adorable and punchable. Well done.
Thansk, I was studying some old works in the community to see where I could improve some traits
You know what's real tasty?
Deep Fried Foal Feet
The food is several years out of date of course.