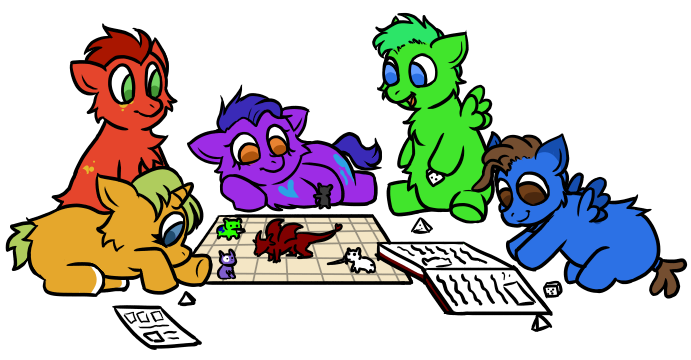 Haven't drawn fluffies in a while, this was fun.

omg the little fluffy figurines
Swordhorns and sorcery.

So adorable and cute
Fluffies and D4s in the same room seems…. Risky. But then, they probably can't count higher… maybe one of those dice poppers, like in Sorry would be good for fluffies…
"'ou see sketties"
"Fwuffy wan' to num sketties"
"Gib fwuffy sketties woww"
Rolls D20
"What did 'ou get?"
"Fwuffy nu know numbews"
"Wet fwuffy check dah chawt. "
Checks chart
"What was dah wesuwt?"
"Fwuffy nu can wead"
This could be a cute story. Why must you encourage my muse?

This is shockingly like my own table sometimes.
Player: Fwuffy wan roww for gib huggies to da gobwin
DM: Otay, but gobwin is a big meany, so wiww need to woww high.
Player: Fwuffy woww a four and another one
DM: Dat am mowe den DM hab weggies. You gib bestest huggies to gobwin!
Side note, I like this a lot, but I think my favorite part is that they only have D4's and D6's, so they never need to count more than four and anther two.
Fluffy pc dies.
Fluffy thinks they died for real and flips the fuck out.
Cute
Sure they're not Micros LARPing?
Holy shit that'd be even cuter! Though they gotta make sure the micros follow the rules. It'd like playing a game within a game.
This is one of the cutest things I've ever seen. I'll take a dozen.
Oh please, we all know fluffies always roll a 1.
Dooo ittt. Before this picture I didn't know I needed more of this in my life, but now I want all the fluffy D&D content possible.
I missed seeing your fluffs.