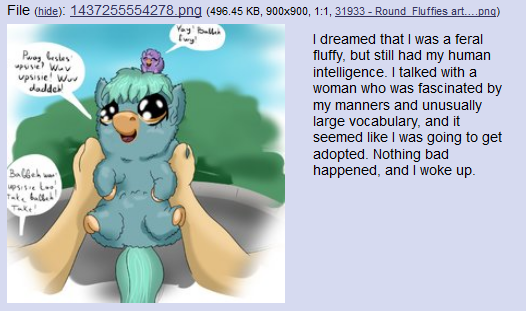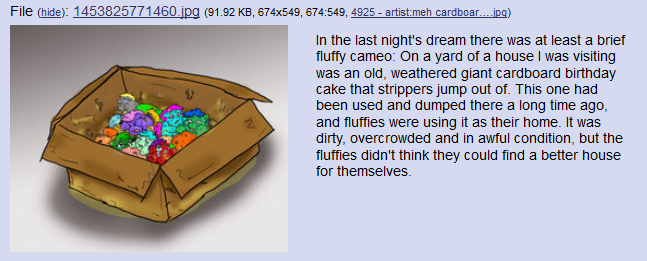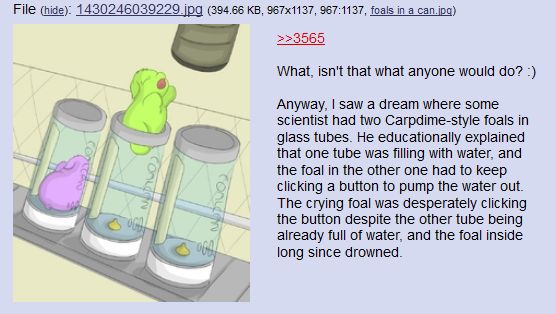 I finally decided to post all my saved fluffy dreams here, after dreaming about Somethingcheeky's anthro fluffy wearing Senketsu from Kill-la-Kill last night. She introduced me to the concept of jumping between realities, but after than that the dream continued non-fluffy related.
For anyone wanting to remember their dreams better, here's the memo I wrote immediately after waking up:
"Somethingcheeky killakill gunworld boobcomicfurries everywhere, anomalies with big heads and anomalous mouth, get off my tractor. G8 hurtingspring. Shot through door, shoot eyes instead of punishment, made zombie gunrunners problem."
It seems like gibberish, but it's actually keywords for every concept I could remember. With absolutely anything to remember what there was to remember in a dream, it becomes much easier to then sit down and write everything down properly.
Fluffy dreams are always interesting to hear about, so be sure to write them when you see them!