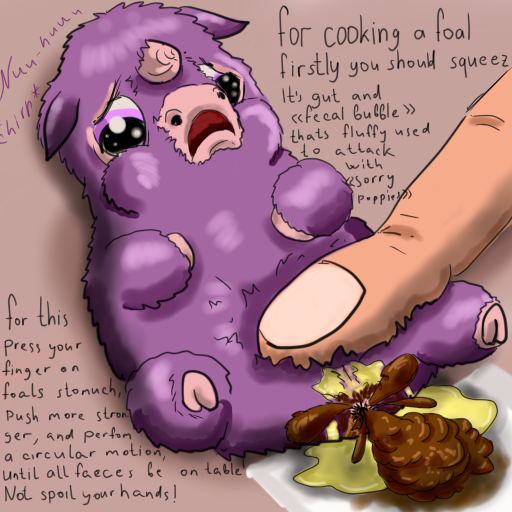 Foal can be such a versatile meat, I heartily approve of this.
as shown in some other artists' works it's actually more practical to remove all the fluff, then cut around the lower abdomen and then remove the entireties of the digestive and reproductive systems in one good yank
That's how it is in my headcanon. Also, one usually slaughters the fluffy first, either by cutting the throat (if you want to preserve the hide as one intact piece) or by decapitation (if you don't care whether the hide is in one piece). The same rule applies to both adults and foals.
But, one can skin and gut the fluffy while it's still alive if one feels like flooding the meat with lactic acid for a nice savory flavor.
Again, all IMHC.
Some ppl like to do that last
fecal bubble is a fucking disgusting term.
Fluffies are disgusting creatures.
Depends if your cooking the fluffy for food or abuse purposes
See, it would be more practical if they just sold pre-skinned and pre-squeezed foals.
Imagine having to butcher a cow yourself every time you want a burger, and you'll see my point.
you can't buy a cheep cow in the local pet shop
True. But imagine how much easier it would be to just chuck the foal in the pan without having to worry about the shit and piss.
Or the pot… or the microwave… or the blender… damn, @FluffiesAreFood is right, they are versatile.
True but a fresh ground burger tastes best plus a single killed cow will feed a family for a good while if they eat every thing of the cow at less it's a fluffy an adult fluffy would feed one for two days at most and that's pushing it
The point is that it could be more convenient.
And you know us humans, we just love convenience.
99% of the crap we've invented was invented out of sheer laziness. Because we wanted an easier way to do something.
Now that I've mentioned blenders, imagine this:
A guy dumping a bunch of foals into a blender and drinking it like Rocky drinking raw eggs.
I think @NobodyAtAll is right: most people who don't keep their own herds (which is most people) aren't going to bother buying a whole fluffy just to slaughter it that night; they'd rather just buy pre-butchered fluffy.
In my headcanon, the exception is the holidays, where convenience gives way to tradition. And in 2090's North America, nothing says holiday traditions like buying a foal in September and raising it to be a hearty meat fluffy in time to slaughter and cook in late November (or late December or even January 1).
I think there's a good chance the fluffy would end up being spared.
Fluffies are a lot more relatable than turkeys.
And cuter.
the Caucasians don't agree with you