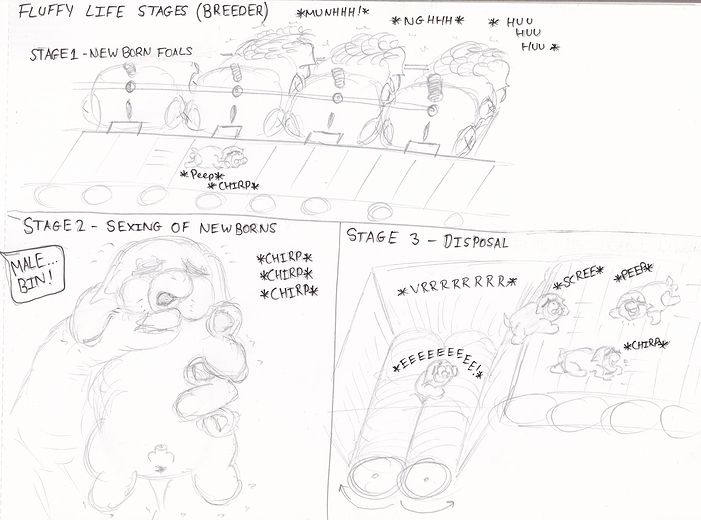 Foals are born onto a conveyor belt which whisks them away from their pillow breeder mothers, the speed of the conveyor belt chills the still wet newborns, this is the first of many tests a fluffy is faced with at the fluffy mill. If they don't survive the chill they wouldn't survive long anyway. The newborn fluffies chirp and peep loudly as they travel, as they pass the pillow mothers will join in on the chorus of displeasure around their feeding gags.
Unless they are of exceptional coloration, horned, winged or a combination, male fluffies are essentially worthless to breeders, and are significantly less likely to ever be adopted. So after their conveyor trip newborn foals are sexed and inspected, male fluffies and any other undesirable fluffies are separated and placed onto another conveyor. Newborn foals chirp and peep to alert adult fluffies or owners to the foal needing attention, the hands of the inspectors might be the only warmth the foals ever experience.
The reject conveyor snakes its way through the rafters of the fluffy mill collecting all the rejects from the breeding process across the facility before simply dropping the live fluffies into a macerator, the resulting slurry can be used as fertiliser, or can be fed back into the feeding system.
I really liked the fluffy life stages art I have seen in the past, and The Post by @ElGuzz reminded me of them and I decided to make a quick one of my own.