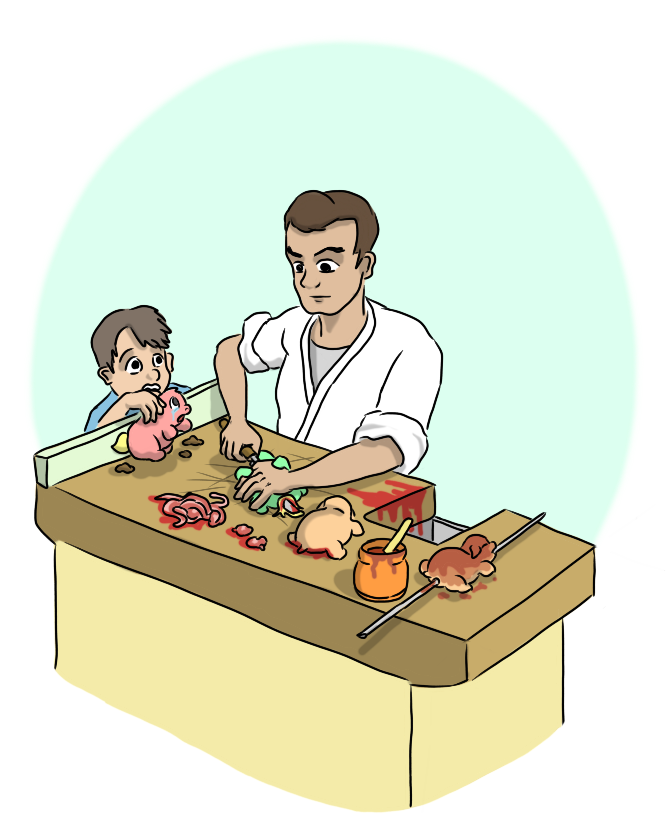 Hope you like going hungry, kiddo
That one brave kid there. Kind of also opens up a number of story possibilities.
Ooooh this hit the feels - I lived the same situation when I was a child and they were sacrificing rabbits.
What happened to that rabbit?
I'm afraid it ended in the rice dish served that day
I wonder what fluffies would taste like. But I always think that since they also have some human DNA, wouldn't that be part cannibalism?
While I'm not fond of the fluffies-as-food tag and prefer not to eat them, I imagine they'd taste like pork. It also depends on the breed and whose drawing them though - Carp's fluffies remind me a lot of cute piggies, so I imagine they'd taste like pork.
I have yet to try out horse
I'm thinking like: "Ya, I guess you can play with it for the rest of the day, but it's still going in the trash come nighttime. That thing's not sleeping in my house."
Most headcanons I've seen describe the meat as exceptionally sweet, sometimes to give a justification for why fluffiest need to be tortured before eating/cooked alive for stress hormones to alter its flavor a bit to reduce sweetness.
I've always liked the idea that fluffies are eaten because post-fluffpocalypse, factory farming of other livestock has been made impossible thanks to diseases carried and spread by fluffies. Thus, they're now the only meat that can be safely and reliably mass-farmed, with natural animal meat becoming an expensive treat.
Give me 2 foals and a big order of fríes.
I wonder if it will taste better fresh or meat is still better to pre-marinate?
Interestingly, this same justification is one of the few things that are accepted as fully canonical in yukkuri canon. I think, either intentionally or accidentally, there was some diffusion taking place here.
Shit, this is quite shocking considering most of your recent works have been cute hugbox stories about the fluffies at the daycare.
Also, that foal may be saved from death but it will still be fucked up for life.
The little shit who was saved better be the best damned pet they can ever have, and be the kids bestest friend ever… Or otherwise… Suckling pig time when. Its grown!!
In my headcanon they taste like sweet and slightly gamey beef, unless they're tortured ahead of time, in which case the lactic acid gets into the meat and gives it a slightly sour beef flavor that could be described as savory. Little pinkie there is going to be tasty once her throat is cut!
Also, this image gets bonus points for gutting the foals.
Whether fluffies have human DNA is of course a matter of headcanon. I've decided that they do not in mine, but that their backstory is even more fucked up than that.
Maybe not! Fluffies can be "reset" in some headcanons by applying voltage to part of the brain.