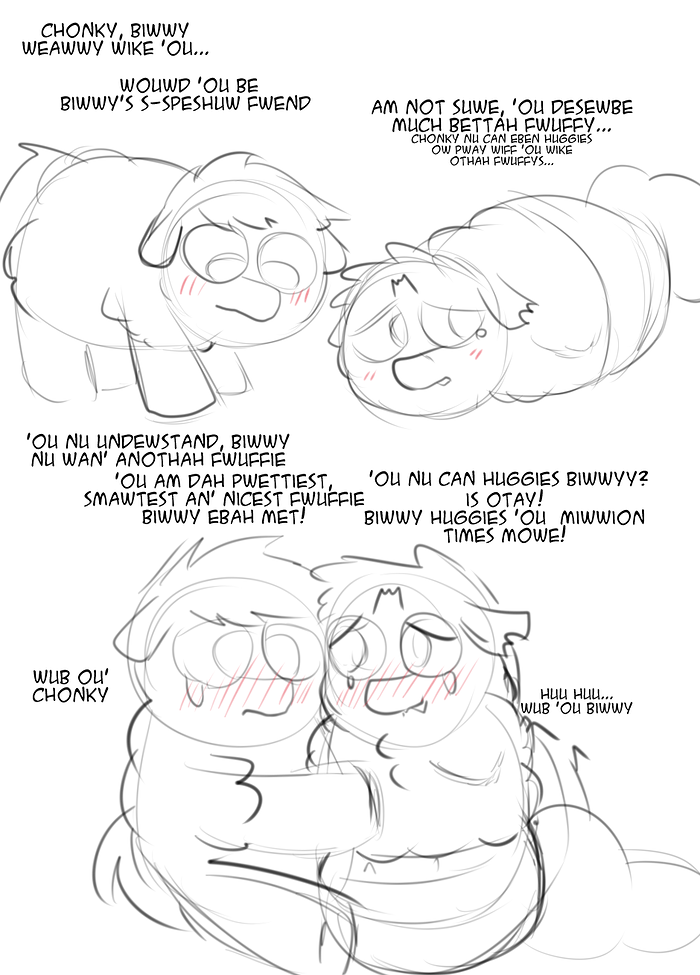 Sequel to Book Fanart (by Booperino)
I'm feeling extra saccharine today, so have more Chonky x Billy
He's getting in that diaper.
Escuse me while I squee about about how adorable they are.

Chonky was overwhelmed by love. It was the strongest thing she had ever felt. Partially because she was having a mild stroke, just as she had feared.
Chonky passing out as a joke was one of the ideas for this one, but i went for the more cutesy one with billys confession, guess i'm more a huggy than weirdy mood today lol
These two are adorable.
But they're gonna have the weirdest, rolly enfies ever unless they ask Chonky's owner for help.
The Rotisserie Chicken, as described in the Enfa-Sutra
Billy keeps placing blockies around her, trying to find the right amount to keep her steady.
Chonky looks to the camera: "Dis am womantic."
And here we can see an unusual mating ritual of a very unusual fluffy pair.


.




So sweet and pure.
(And then the non-PG part of the back of my brain… "Oh Chonky, you can still give the huggies that really matter, special huggies.")
don't look at me like that, this idea is from the office of

ASS WE CAN​:male_sign:, not me
What if they kissed while making fun of FluffTV.
Just kidding.
Unless…

Awwwwww take picture*