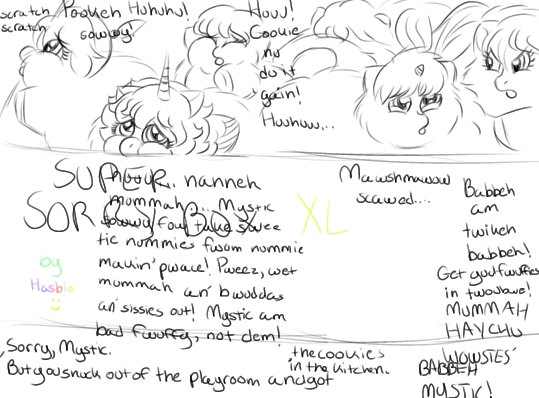 Introducing…the Super Sorry Box! The new and improved sorry box made for multiple fluffies at a time!
Little Mystic got a little curious today and decided to rally her mummah and brothers and sisters to go inside the kitchen and steal the cookies from the cabinet she saw earlier. By the time Daddeh and Nanneh Mummah got home (the one day she left for a grocery run no less.) There was broken glass and cookie crumbs everywhere so the eight fluffies were promptly placed into the Super Sorry Box (gifted to them early for Mystic and co. for being on FluffTV) for being such naughty, albeit cute fluffies.
Mystic: Huuuu…nanneh mummah…Mystic sowwy fow take sweetie nummies fwom nummie makin' pwace! Pweez, wet mummah an' bwuddas an' sissies out! Mystic am bad fwuffy. Not dem!
Nanneh Mummah: Sorry Mystic, but you snuck out of the playroom and got into the cookies in the kitchen. This is for your own good.
Mummah Missy: Babbeh am twickeh babbeh! Get gud fwuffies in twoubwe! MUMMAH HAYCHU WOWSTES' BABBEH MYSTIC!!
Marshmallow: Mawshmawow scawed…
Cookie: Huu!! Cookie nu du it 'gain! Huuuhuu…
Pookie: scratches the side of the Super Sorry Box Pookeh sowwy!! Huhuhu!