Oh o! This dont look good…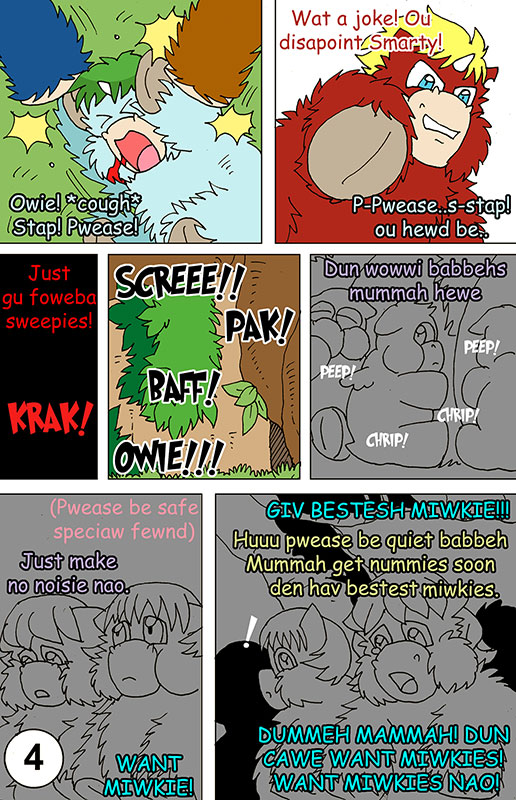 ==========
For commissions and info, kindly pm me.

We have a brat on our hands. I'm gonna take a wild guess, the brat is the reason why the attackers will find them.
She can absolutely flatten that little shit and nobody would even care.
I hope that little shit lives to see what not keeping his fucking mouth shut has wrought.
They should just use bestest baby as a distraction for them to escape.
Kill that little shit now and save yourselves.
Ah who am I kidding, Fluffies are too stupid to save their own skins
The mother is a fucking softy , would cry like an idiot when her spoiled foal start berating her.

He's the "bestest-babbeh" or at least has the attitude of one, he won't care that most of the males and his father are dead, and his mother and the rest of the mares are about to be used a "enfie-toys" and maybe them too, all he cares about is being hungry and wanting to play!
Sounds like Mary from my story made her way into your herd.
This is clearly what she deserves
Actually the mare was inspired by her and you see more of her bullshit soon
the colors look… familiar




Yeah, but it'll screw him over too.
Hey, for extra unfairness, how about the brat is the only one that comes out of this unscathed. The Red smarty takes a liking to the brat.
Probably not, If he lets the brat live and join his herd, the little shit would probably try and overthrow him when he's older.
Exactly. It's kinda like how when a lion takes over a pride, he kills all the other lions' cubs.
But the red smarty should totally keep the little shit alive long enough to show him what his actions have brought about.
Kind of a "We couldn't have done this without you!" moment.
She knows what she must do. Kill the chicken.
Only plains do that. Jungle and captive lions don't.