Ugh forgot smarty's scar again sorry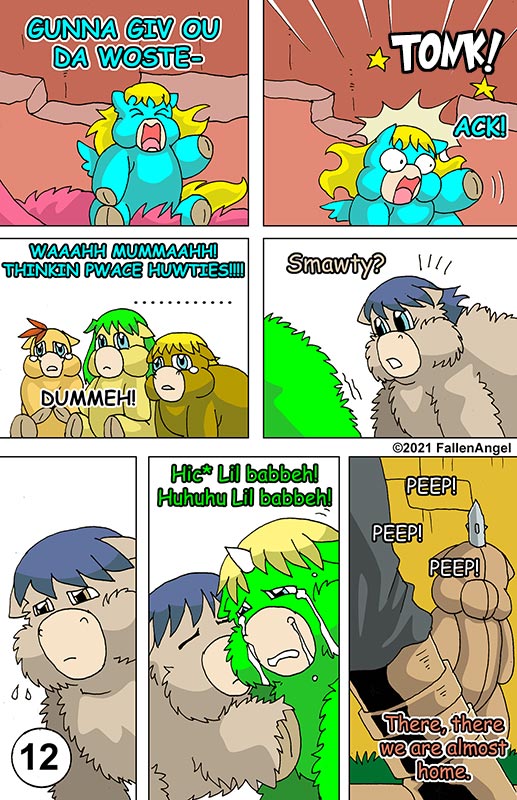 ===============
For commissions and info, feel free to pm me

Well shit that foal prolly dead
Those "Tonk!" aint enough to that annoying bestest babbeh ffs…
my abuse ass wanna squeze it so much…ugh…
Oh I already got how he ends

so be patience

but for now enjoy his bestesh dummeh moments

This wouldn't have happened if the mother hadn't gone full bitch.
Never go full bitch.
I kinda hope smarty will get painfully exterminated.
Lmao






I hope not
It needs to suffer more.
I love that smarty! He genuinely cares about his foals. That reminds me of a caring, loving dad who just realized his wife is actually abusing their children while he's at work.
Bigges huggies tu smawty!
What's in the last panel scares me.
Awe, what a good father, he gambled seeing the state of the abused foal, the human has a better chance of helping it recover, and he got food for his herd.
Hope the knock to the head is just the of the blue shitstain's suffering.
That last panel is unpleasantly suggestive though.
Yeah…what IS that thing?/
Hmm, guess the babbeh is going to be sleeping for a while.
It looks like a teddybear with one of those meat impaler on its head.
the kind that is used on chickens, in meat processing plants.
Wait, is that smarty from Invited in the background of the last panel?
Love a sensitive man-dad-fluff.