Sooo yeah being an Alicorn really sealed her fate with that bitch mother
D'aww…lovely star pattern on her flank.
(Did Edward the eye thingie look at her crotch, or is he just really good at determining the gender?)
He was washin her so he feel and saw it
Wait a sec…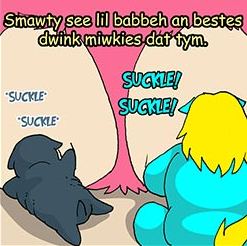 The lil shite probably drank it all first b4 she could get to it
The babbeh alicorn has nice colors I love the stars
Seeing the cry when something good happens, really makes me wish for them the best, and makes me want to destroy anybody who tries to lay one hurtful hoove on it.
Good job @FallenAngel007 , well done.
Get some healthy chonk, lil bebby





Babbeh cant get enough as soon as noone is lookin she push it off her tits thats why she is that weak and malnorished.
This is the first time she managed to drink fully.
I meant her wings aren't here.
Its stuck inside its fur it was mean after washing it was revealed she has wings and an alicorn