Curious and curiouser.
What's going on here?
I already want to punt that little blue bastard
He looks so… FAT.
But why would they be sad for the poopie babbeh? Could that be a clever ruse to have foals be adopted by caring humans?
Listen here you little fucking shit.
He didn't do anything yet
Other than announcing itself as a "Bestesh Babbeh" and demanding food instead of asking politely.
Who says the smarty wasn't like that at some point?
Looks like that green fluffy has tactile telekinesis.
Haabio managed to make them like mlp ponies at least in something
I'm more confused that there are more literal brown babies in the herd but they aren't being labelled as poopie babies. Seems like there is something more literal going on.
don't believe him, the baby was covered in shit, he just wanted a place to shit
Daddeh being gud daddeh in 3…2…1…-Smack -Screeeee why gib bestiest babbeh sowwie hovvsies
I get the feeling bestest babbeh is going to hate life starting with the next installation.
With the baby suddenly not being a poopie baby. I say it was a cruel ploy to get them adopted to a nice home. Most likely only gets fed just enough not to die. But not enough to look like it doesn't need help.
The bright blue one is a demanding little shit. We all know what happens to those fluffies.
I feel like the 'bestest' babbeh is being raised to be a sacrifical lamb in a sense, hand a naughty child to the humans
god knows id give them some good nums for the lil shit.
KICK THE BABY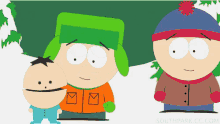 Fluffies do that in my headcanon. Usually they'll build up their ego, then when a human or predator comes around, the bestest stays behind while the herd escapes. Sometimes a mother does it because of favoritism and the smarty friend uses the foal as a sacrifice to teach a lesson.
Read those panels again–Smarty starts to call the sickly foal a "smarty baby" (i.e. his baby) but quickly changes it to poopie baby–because humans expect fluffies to discard poopie babies, so the lady wouldn't see anything odd about it.
Smarty was manipulating the human into taking the foal because he couldn't feed her anymore. He pretty much explains that in these panels.
I'm not sure why there is confusion over this, except maybe people don't expect a fluffy to be as clever as this one is.
I think I've seen a few posts like that.