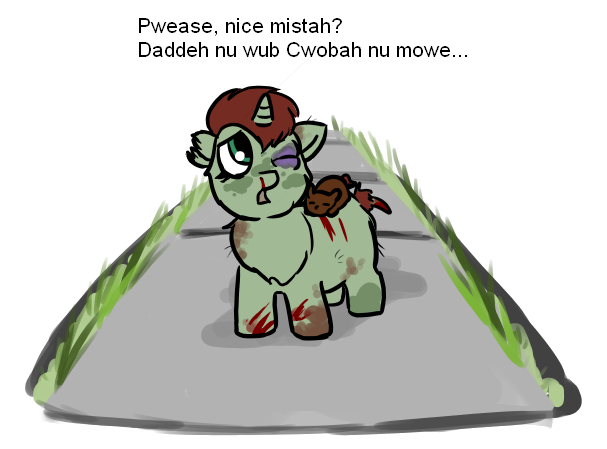 Would you take her in?
She fits the leaf aesthetic, so hell yeah.
Yes, absolutely. I'd definitely give her a shot at a happy home.
…this mean they are looking for one?
Didn't she kill her alicorn foals in another post
I think she did

Excellent, now she must be paired with an alicorn. Perfect problem requires extreme solutions.
Maybe? She seems nice and I don't know her backstory. We've never bought a cat, so I don't think I'd ever buy a fluffy.
Nope, she's a racist baby killer. Finally, justice has been done.
Yes. Such a sweet little baby. Is that her little one on her back? If so, she must love the. She is so polite too. Asking more for help instead of demanding
EDIT: Oh, saw the other post about her. Now, I'd take her and da baby. Baby have the bestest life. Perhaps be given to one of my kitties as an adopted child, my mama cats love babies. I'd learn her truth and make her look like the monster she is on the inside. Maybe.
Can she be taught to know better? Is this bad programming or straight up monster?
Don't be fooled by the politeness, this bitch is a remorseless baby killer!
And a little hurt. Hmm. That eye

If in setting Alicorns get killed because that's normal, same as runts? I'm not sure I'd necessarily hold it against her. She is getting fixed though.
God no, she killed a full alicorn litter. She is lucky of be alive.
Based on how she reacted to killing them its neither.
Its the default programming error that makes them not see Alicorns as Fluffies, combined with her not having been prepared by giving her the knowledge that the programming is wrong.
She legitimately did not think that they were supposed to live, and without malice she proudly announced that she did what she thought was the right thing to do.
The fact that she spared and loves the Poopie means she can be taught. Unlike Alicorns, which is a glitch, they are programmed to hate brown and dingy greens but she disregarded that programming by choice because she understands the Poopie is a Fluffy.
I actually just wrote the mental process for this in a story chapter.
So I'd say she deserves to be spared. She needs to be educated, which the owner failed to do any just assumed she wasn't a mentally incomplete sapient animal.
She made an all-Alicorn litter in the first place though, and managed to keep her baby alive throughout the beatings.
Plus, seafoam is a wonderful color and her Poopie is a wonderful saturated shade with a matching mane.
She's a god tier mother for a non-pillowing breeder, just with the usual programming error not being corrected.
No. But do take the baby.
Oh, it's her… super glue and a mirror are coming her way.
I mean she's grossly misguided but like @Thk has said it doesn't make her irredeemable
At best for me, she's good breeding stock.
The story may even be that she had been raised in a herd before her first owner. What we've seen is that without a outside arbiter (usually being a human) stepping in ferals will kill alicorns with extreme prejudice. If her entire life if that's what counted as right and "necessary" how could she of possibly known otherwise?
Actually, not necessarily the Abuse option.
The fast way to convince her Alicorns are Fluffies for future litters is exactly that. Gaslight her, tell her she was an Alicorn all along and something just made her confused.
Use the fact she thought she was a Unicorn to convince her "if you're wrong about what you are, then you mist be wrong about them not being Fluffies too". That way she's suspicious of her mental voice. She already is given the love the Poopie is getting, just gotta convince her the inner voice can be wrong about Alicorns too.