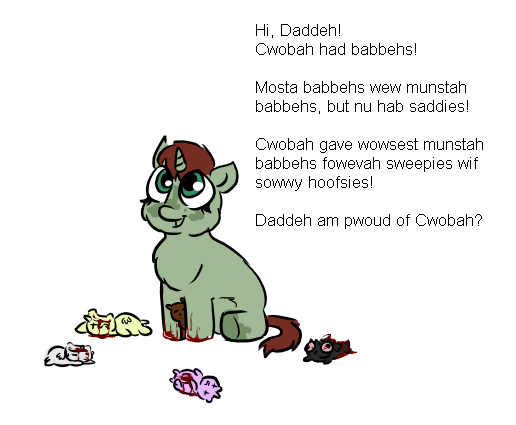 Time to stretch the Yeeting arm.
NOOO a pure white and a pure black alicorn!!

Time for a pillowing. THIS is why you either attend the birth, train the mother, or pillow her.
i will punt that fluffy into the fucking sun
Time to lose see places privileges. Or glue wings to her back and make her look in the mirror and tell her she a monster now because she's a murderer.
I feel this loss is so tremendously immense that the owner would stroke out or something.
I don't know how much alicorns go for but I know it is a lot. With those colors too? Yeesh
Very proud. Saved me the trouble of listening to 4 mewling shits.
Edit: scratch that. She's a poopie babbeh white knighter. Milkbag that bitch
I kinda wanna see you do a follow-up. What would you do in this case, ESF?

Let's put it this way: When Arabica was a foal the highest offer I had for her was around $5,000 (which I declined since I was already registered as her owner) and she has a what they would call 'poopie' colors. Those foals? At minimum $10,000 and for the white and black ones $25,000 a piece. That bitch should've been turned into a pillow and bred to make back that investment.
im hugboxer but… takes out a sorry stick
Congratulations Clover! You just won a ticket to the local breeding mill! Here you will produce foals over and over again, and you will never see them!
And if you start to be a shit factory, you'll win the Milkbag spot!
All of this, plus 20 whips of Sorry Stick, for free! Now, come to mama and get worstest owwies!
My favorite activity: fixing things worse!
She just destroyed a god damn fortune. She fucked up royally right here. Although you could also say this is partly the owner's fault for not instructing or supervising her.
"Okay, Google, how to become an abuser?"
Holy Jesus she saved a poopy baby!?
saved is kinda a strong word here. I think its more like "she was only left with the poopy baby after murdering all her other babies."
damn it'd be hard to resist the urge to kill her on the spot, the only thing saving her is that she's a god damned gold mine; multi-alicorn litter with very good colors on top of that.