Page 2 of Cleveland : After the Fall by @anon6161455 and myself! More to come soon!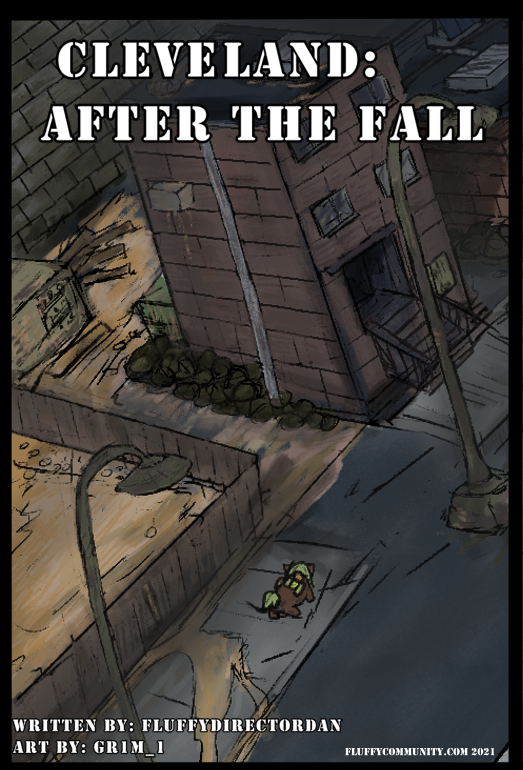 [Page 2]


Thank you! Unfortunately I don't speak it very much :[ lo siento aaaaha
Translation:
"gr1m_1 hablas español?" => "@gr1m_1 do you speak Spanish?"
"PD: excelente trabajo" => "PS: excellent work"
Antes de preguntar, no, no hablo español, estoy usando un traductor. Pensé que le gustaría saber lo que estás diciendo si no habla español.
Before you ask, no I don't speak Spanish, I'm using a translator. Just thought he would like to know what you are saying if he does not speak Spanish.
But the Megaherds weren't a problem.
Hasbio was the cause of all of it. It would have been well-documented that the rides were causing casualties, the park did nothing to dissuade the herds, the Fuzzies were the humankillers, and almost all Ferals nationwide died in the explosion. The survivors mostly went ti Canada. It'll take decades even at the Fluffy reproductive rate to bounce back due to how little resources there are for them now.
You messed up with the wrong tomb
Welp, time for some purge
This is kind of an alternative take on what happened after the Fall, a significant amount went to Canada but more than a few scattered/and/or got lost back into America, fluffies being how fluffies are, you can see the first page of the story for more information. There would have been abundant resources for those that survived due to little competition from other fluffies along with Cleveland's destruction setting off a major recession that hamstrung animal control budgets across the country, so they would have had a lot of free time and resources to reproduce. This is set sometime after, where they have had time to recover their population, not quite to megaherd capable levels, but enough that the government would see it as a threat (or be able to say it is a threat, without a lot of pushback, at any rate…)
Of course, how much of a threat they truly are is up to the reader, you'll see later on the fluffies might just be a good scapegoat for a divided nation and a convenient excuse to pass fiscal stimulus and more authoritarian governmental measures…
Why does PETA has a say on this? I thought people would have crucified and raked them over the coals for unleashing the fluffies?
And what that brow shit stain did to the memorial was extremely disrespectful, and I'm betting the guy would love to "talk" with brownie on the bad thing she did.
Ah, I see. Makes good sense as plot progression.
Same reason the Daughters Of The Confederacy were given cultural consultation thirty years later? Or its a controversial opinion that Stalin was an asshole in Russia?
Plus, Hasbio is definitely the bigger villain in any story told.
do you think they understand our funerary symbols
its not controversial, but debates about that are still ongoing here
Didn't Death Of Stalin get banned from theatrical release because a pair of old movie reviewers got into a fistfight over it on live TV or something?
yeah, it did
i don't know about a fistfight on the live tv tho
"Vengeance is mine; I will repay," saith the Lord.
lmao. maybe it wasn't banned because of this particular fight, but definitely for a similar reason it started. Stalin is not considered a one-sided bad guy here and opinions about him are various
Wow, this is some amazing art! Some of the best I've seen in fluffy comics. It's so detailed as well.
And it's a really good story idea to show what happened after the fall!