Dave want's your support, remember he's the best fluffy!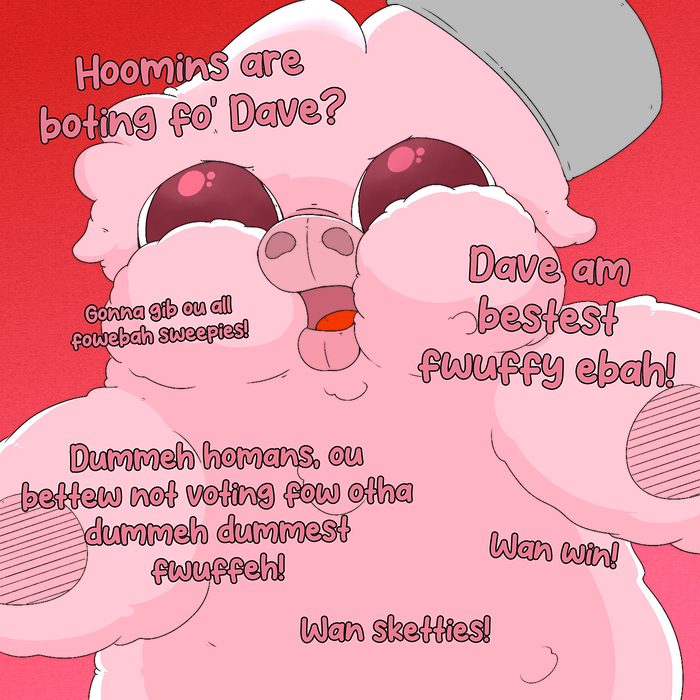 oh nooooooooooo- but, whatever shall i dooooooo-
Votes Kevin harder
Looks like Dave will just have to be enrolled into Another composition, maybe foal wars will have him?
He may be losing, but he is definitely surviving this fight. He will come back… with a vengeance
Personally,I am rooting for Dave.
It is our God given duty to make sure this mf does NOT win!!
PS: I always thought of Dave trying to move forward, he slips and accidentally sticks the bat in his mouth
You know, the kind of wacky stuff that happens to a fluffy xD
Dave is getting robbed, this shit makes the Montreal Screwjob look like a joke
FinaIIy a politician that just admits they're a scumbag and wants your votes for the perks.
Most flashed out motivation in the entire roster too. A life supply of food is a goal anyone can understand
legally, I think 'lifetime supplies' when it comes to food is like 20 years at 1 serving / container a day.
Still probably more then a fluffy could eat though.
He will die in 3 with a diet like that. It will be worth it to him tho