The democrats getting desperate for bigger voting base despite counting the vote.
Going wumps deep into the weirdbox I see. Gooood.
well that's unfortunate
starts conspiring harder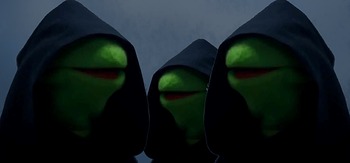 …
yes, i have a perfect plan, that has enough weirdbox to actually work
will say it after that story tho
secret service: "Sir again, please stop calling us 'toughies'."
Fluffy President is something that could feasibly happen in the fluff verse, especially if peta funds them
Perhaps fluffies live longer in 21xx?
I demand that fluffy show me his birth certificate!!1
A fluffy would inevitably be a preferable president to the current one.
xD
Im picturing podcast show hosts talking about him being a 'clone' puppet candidate of the globalists etc.
~Camera pans in on fluffy~ "Hewwo."
But just as memeable.

Truthfully, it doesn't matter who is currently president, you'll find a lot of people that will agree. Its almost like "Don't Blame Me, I Voted for Bill & Opus".
This statement could be said at any time in the last 40 years and it would probably be true
reminds me of that OSI scene from venture brothers where brocks getting told 'the presidents not actually the president' xD
Didn't Finns always get the best president?

"Weirdboxers are vibin"
All the time my dude
People actually getting teary eyed over Cleveland getting blown up has always been the most unbelievable part of pony lore, to be honest.
My brain in a jar definitely would've given him my vote come 213X for getting rid of the second one.
And horrorboxers are well, still fucking terrifying