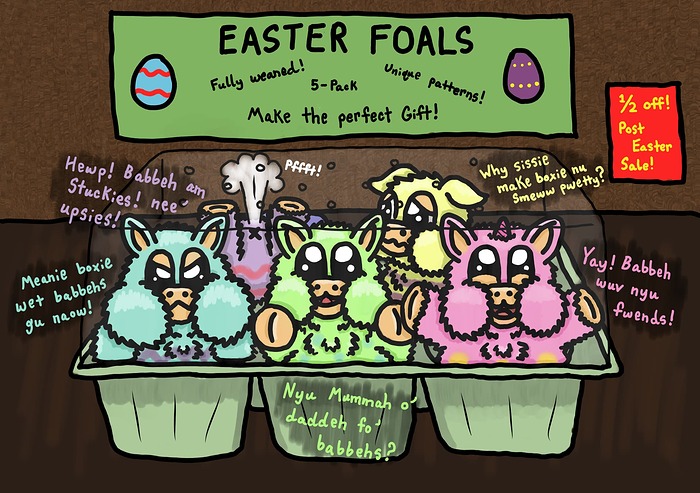 Thank you @Gardel for the idea!
A five-pack? Hmm… I could probably get a six-pack of beer but… oh what the hell, gimme a pack of those adorable little dorks, a bag of kibbles and a massive box of spaghetti while I'm at it.

Oh the poor little farting foal!
Very cute, Beast. They're like little cupcakes

I'lL TakE YoUR EnTiRe StOCk!
Very adorable! How could I pass them up? They'll make perfect additions to my herd!
@Gardel would be spinning in his grave if he knew any of his ideas were being used for wholesome content
Wholesome is da wae. You do not kno da wae.
And now I want someone to draw ugandan fluffies.
I'm a wholesome monkey's paw, you have to be specific or end up with wholesomeness.
I missed it: did Gardel give @Beast the idea or just put it out there?
Giving Beast an idea to do an not expecting a hugbox result would very much be failure of due diligence.
It's from the community post where I asked for drawing ideas:
Looking for ideas to draw
Which by the way I am not done with. As long as an idea is on there and not something that is outside of the area in which I feel comfortable drawing, I intend to draw it eventually.
@Beast @A-S I'm surprised nobody has mentioned that gardel is very much alive. That was the joke I was shooting for

Those poor buggers will be in the trash the day after Easter, mark my words.
It is the day after easter, that's why they are currently half price
Oh shit, I did not notice that.
But the ones that were sold before Easter are probably in the trash now, soooooo my point is still valid.
But is it really living? Or is he only dead on the inside?
~employee~ "Oh what's that smell." Sees uncorked shit smeared foals in cartons. "Ugh, easter foals have gone bad." tosses
Farting foals are the best invention of our era. Those little 'pfft's make me laugh every single time!