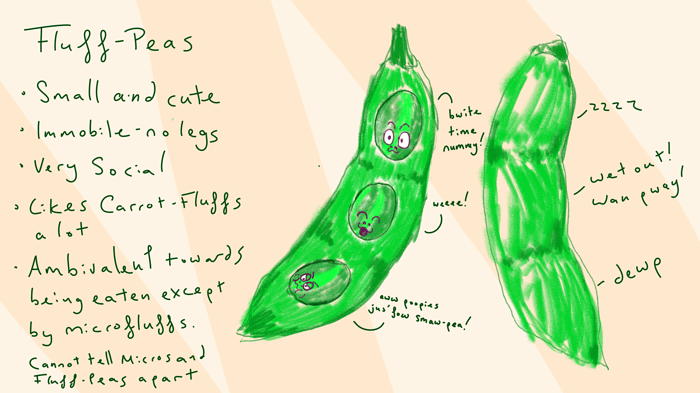 My entry for A Community mini-theme: Gardenfluffs and Fruit Fluffs
Bright Time Nummy = sunlight/photosynthesis
I feel like fluffies made of food is a disaster waiting to happen, because they'll probably end up numming each other. Or themselves.
Cute! They even poop…pea shaped poopie ?

Well, at least those are easy to clean up.
I wonder what happens when they try to fire sorry poopies at someone. I bet it's like a tiny baseball pitching machine.
Like tiny light tappin small pebbles

Cute as peas in a pod. Though curious to know if they require another being to be let out?
The Sorry Pod could totally be a thing.
A pillowed nummy friend?
What could go wrong?
Assumption is they'll either come out in their own (pod dries and opens) or something does it. My thinking is there's an assumed symbiosis for their design
Fluffies ARE made of food. They just don't REALIZE it.
In my headcanon, eating fluffies can actually be detrimental for humans. Other fluffies can still eat them with no worse side-effects than cannibalism in any other species, but a long-term diet of fluffy meat can actually kill a human in my headcanon. It's still not understood why, though.
And fluffies in my headcanon don't actually taste that good in the first place.
You'd have to be desperate, a degenerate, or a demon to put up with that taste.
Yes, demons are a thing in my headcanon, I don't know if you've been keeping up with my stories, and vampires are a thing too.
I bring that last one up because fluffy blood is still perfectly palatable to vampires. In my headcanon, vampires prefer the blood of their former species, so a human turned into a vampire will prefer human blood, and because fluffies have human DNA in them, their blood tastes just fine to vampires.
There are also vampire fluffies in my headcanon.
I'm thinking your overall head canon is a bit much for me to enjoy. That said, I think you're making the Rifts* of Fluffies. Keep at it!
*old, kitchen-sink, multigenre RPG set in a post-apocolyptic Earth. Very crazy/gonzo. Don't run as written, the system is a bit of a mess.
Me irl : I'll take your entire stock