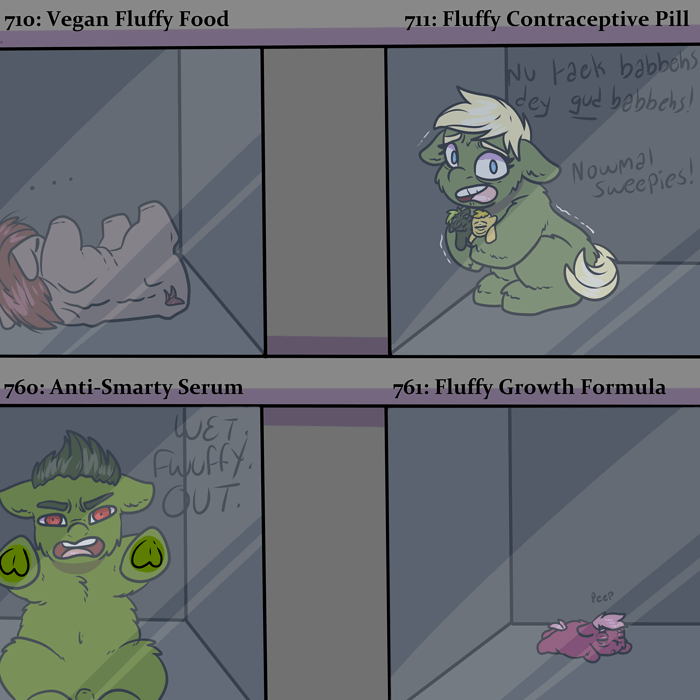 Ooh, now that's a nice fluffy suffering premise. The baby one is especially sad.
Though I'm not sure how a fluffy would starve on vegan food. Which makes me suspect it is made from something artificial.
Oh dear, is that mare's babies stillborn?
Also, I've known fat vegans. There's vegan junk food

Fun art and great work as always!
Both were stillborn with birth defects
Fun fact, Oreos are vegan. Somehow they made a baked good with no eggs or milk.
Thatveganteacher intensifies
Im guessing these experiments werent succesfull (or a huge success depending on who you ask lol)
Sugar is a good binder. I've made gluten free peanut butter cookies for my cousin with celiac and it needs A TON of sugar. You can't convince me its healthy, but its gluten free for her.
I didn't notice that. I thought she was just scared of her babies being taken and was saying "no wan sweepies", like she was worried about her or them getting put down.
Still super sad, though.
Well, we'll call it a partial success then. Might need to be reworked into a different product and receive proper marketing support. Fluffy Plan B or something?
I love how you do expressions


I can really see the trauma in the poor mare

Yeah, but fluffies are mostly herbivores, anyway.
The fluffy starving on a vegan diet makes me concerned because wouldn't that mean that fluffies are obligate carnivores like cats and dogs? Like yeah they can eat things like fruits, grass, and veggies, but they'd also need meat to be healthy.
Ah, I see. Just me overthinking fictional tiny talking horses.
I'm kinda amused by the horrifying implications of fluffies needing to consume f l e s h.
No worries lol
We've all been there
Most of my art has some depth to it so it's understandable
That yellow foal's face is such a freaking mood.
The mare with foals is such tragic thing. And that single foal