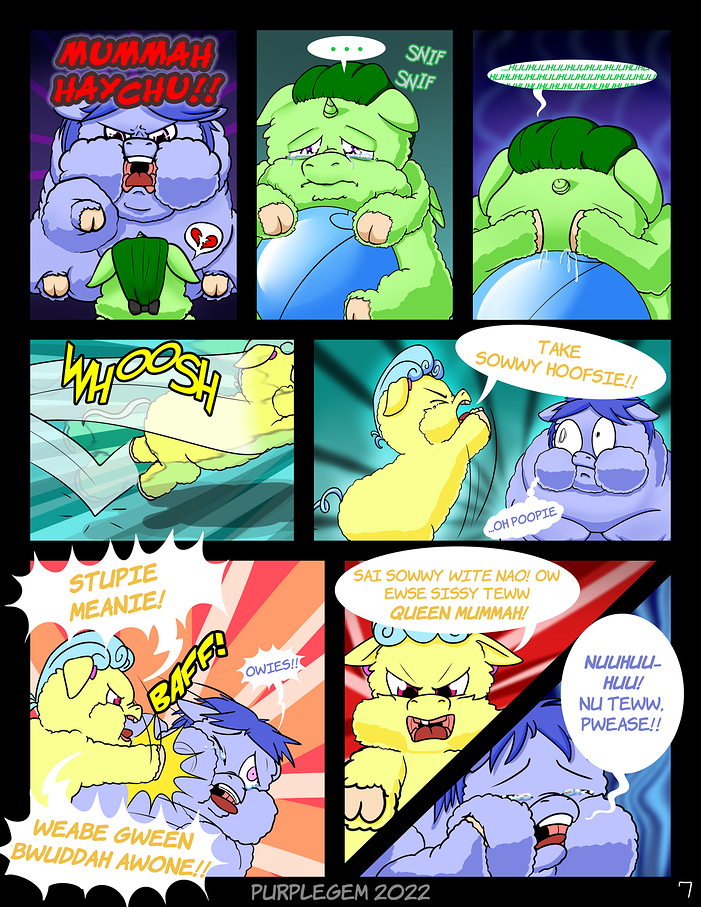 sissy's had enough of crybaby brother's bullshit
commissions open
<<PREVIOUS •• FIRST •• NEXT >>
That's a good girl!


And she should tell Queen Mummah anyways although I suspect a certain lady already got a nanny cam installed in the safe room. Get the feeling she's quite the force to be reckon with and doesn't take crap from neither humans nor fluffies.

HAHAHA GET FUCKED BESTES'!
Jesus, that fat turd is trapping his sweaty tears on his meaty cheeks
Love the sister defended her lil bro. My stars! that fat purple is as worst as my fat blue moron

I hope Queen Mummah knows what this fat lard been doing!
Oh thank fuck I've been hoping for this for the longest time lmao, bestest and Mummah can get wrecked, Queen Mummah's lessons got across better to the seeming toughie sissy and "munstah" brother
Hope the sweet little girl doesn't get in trouble for giving bestest the punch he deserved
Love the artstyle! And I'm really curious what happens to these fluffies. Green is particularly appealing.
Yeeessss! The absolute justice she is about to unleash on that spoiled brat's ass.
That filly is my favorite besides the green alicorn. Seriously that blue log of lard deserves it, stressball mofo'.
I can't wait until the blue one gets his ass kicked
Yo if you want to we could do a collab comic about our shitty bestesh babbehs

The idea of a hidden camera seeing everything and the "sketties" was their mummah's last chance at being honest seems wonderful right now. Yellow's lost teeth would make sense if the "munstah" baby had none at all, since she seems to be a liked baby.
I wanted to show them teething, and I wasn't sure how long it would take before they get all their teeth

Aaah ok LOL I'm reading too much into the deets XD
"Oh no it's the consequence of my actions."
That fat fuck isn't sorry, he's sorry he got caught and I for one can't wait for it to backfire horribly on his chubby ass.
Blue would Look good as a freaking cooked foal
I like the yellow filly best.