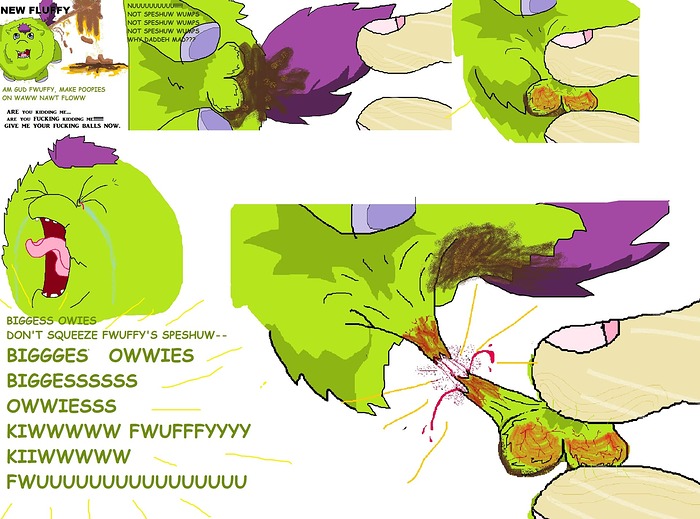 Should I make more?
Part 2: New Fluffy Part 2 by FluffyOD - Fluffy Image Self-Posting - FluffyCommunity
reminds me of the old 4chan art. Absolutely make more
Probably because it is (even though I just drew it 10 minutes ago). I made some OC fucking years ago back when this was allowed on /b/.
Completely forgot about fluffies for a long time until someone randomly mentioned them on /an/ a couple days ago for some reason so I went looking to see what became of the booru and I came here.
Forgot all about this shit, haven't laughed this hard in a bit.
Nice work! Welcome to the Fluffy Community. Have a Martini

Inject him with deep fryer oil in his eyes!
Pleas more the Pain is delicius
Y'know, I'm not really a fan of the whole ripping balls off thing. I can't help but feel some sympathy pain.
But welcome aboard!
Of course you should, welcome here!
Bahahahaha "am gud fluffy, i poop on the wall not the floor"
This is hilarious
Now this is just excellent. Drawn like the classics, with all the gratuitous genital torture of modern fluffy art.
The owner probably couldn't be bothered to set up FluffTV properly so instead he had the fluffy watch Pewdiepie when he had his floor gang phase lol
. . .This actually made me chuckle at the idea of an abuser mounting a litter box to the wall so that all poopies eventually become bad poopies due to gravity even if they figure out a way to get them initially in.
Wow! You went balls out for your post. Good work.
I would love to see more of this