Your art is a bright spot in a dark world
Or the opposite, but anyways, is really good.
How is it not dead? I mean of all the things that has happen to it I'm honestly surprised.
That's one skinny fuckin floofer
That raises more questions than it answers. It barely answers the question I asked.
I got some Courage the cowardly dog flashbacks.
Poor Retard, at least he wasn't hurt, fluff grows back.
That fluffy has seen some shit (literally)
Oh wow, I didn't realise until now that his skull is even misshapen from his time in the can's poopie compartment. Definitely mentally disabled, that's for sure!
His name reminds me of Angelica's doll from the rug rats.
Did you click on the link? Retard was a failed foal in a can which improperly developed causing some defects, like the raised leg.
Based on where he was, he would have either suffocated or starved long before reaching the vending machine let alone being found be the human character.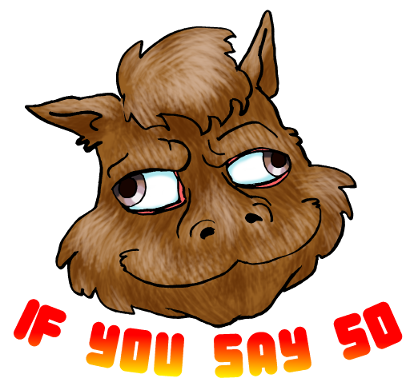 How did he eat and breathe then?
Canned foals have a short shelf life. They are prepped and fed before containerizing. Packed and rapidly delivered to POS (the Pieces Of Shit delivered to Point Of Sale).
Retard was victim of an automated assembly line where, after the technician set him into the system, he slipped and was forcibly capped in the waste vessel. Not sealed, cracked, he spent a few days from containment to automated vending machine eating his own feces, a worker loaded the visibly "empty" can in anyway because NPCs in the fluffyverse really don't care (let's call the one who did this Hachijukyu Farukon-san).
Random guy feeds tree-fidy into the vending machine selecting "random" and through the miracles of animal husbandry saves the useless beastlet.
Mammals can survive without food for 4 days to 2 weeks depending on species, health, environment, and activity.
You can't produce shit if you dont eat.
You are part of the local atheist and agnostic club, aren't you.