Commission and original story by : @no_sketti_on_tuesdays
A follow up of his commission from @infraredturbine
You can read the original story : HERE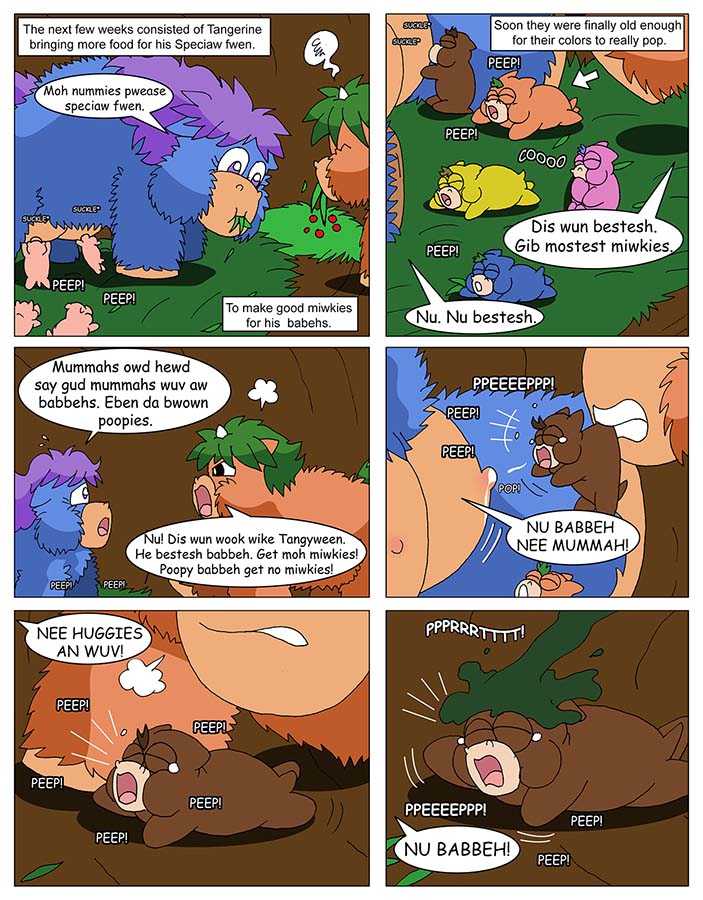 Gee, what a 'charming' fluffy tangerine shitstain is. What he's doing to the brown foal isn't foreshadowing to his eventual fate

BROWN BABY WILL REMEMBER THAT
noooo! i wana help the little brown baby! Poor thing is just living life!
and thus the smarty chose suffering and death
You are cranking these out! Impressive. Also this page is really enjoyable to read and to look at.
I like the twist @no_sketti_on_tuesdays did here by making the dad the reason behind the Bestesh babbeh bullshit rather than the mum.
It's one thing for a mother to deny her kids milk, it's another for an abusive partner to keep a mother from feeding when she can and does want to
Well, by and large, all fluffies don't get much choice in the matter.
Don't worry Tangerine. You and your bestest baby will certainly get what you both deserve soon enough.
[Everyone disliked that]
Ahhh yes the time is upon Us, Tangeshit is racking negative karma left and right
and soon karma gonna slap back with full force, im excited to see how it gets illustrated
God this makes me mad! KYS, Tangerine.
And shit like this is why Tangerine is one of the most detestable smarty's ever created. He's not a foal raping baby eater, but he's just a stupid, spoilt, abusive bully and its shown in a semi realistic fashion.
He's just disgusting.
OH A FUCKING RACIST ASS MOTHERFUCKING PATHETIC TANGERINE, OH HOW MUCH I WANT TO FUCKING GRAB HIM BY THE BALLS AND SQUEEEEEZE IT EXTREMELY, AND POUR SOME ALCOHOL INSIDE HIS URETHRA AND SHOVE HIS BESTESH BABBEH IN HIS ASSHOLE
These are coming out very nicely! And yes its great that at every part of the story, we're being shown how this selfish asshole fluffy operates- the first panel where even providing grass for his mate to eat, to make milk for the babies HE wanted, still makes him grumble resentfully. Even the bestest he chooses is the one that's most like HIM, not actually the best colored one in 'fluffy' logic ( pink would most likely have been the designated bestest if the momma had been so inclined to believe that way ). And he didn't even really need to try to bar his brown son from getting milkies, he just didn't believe the foal 'deserved' to be allowed milkies, for the unforgiveable sin of not looking pretty enough.
This all makes his eventual end that much more lovely to look forward to! Can't wait to see more!
The comic looks great! But also, that is a concerning poop color. Dark forest green is not a color that should ever come out of your butt.
TURDgerine is about to go sour
At least is what he deserves
Not for humans, but it's okay for creatures that eat a ton of grass. Rabbit droppings often have a green tint.