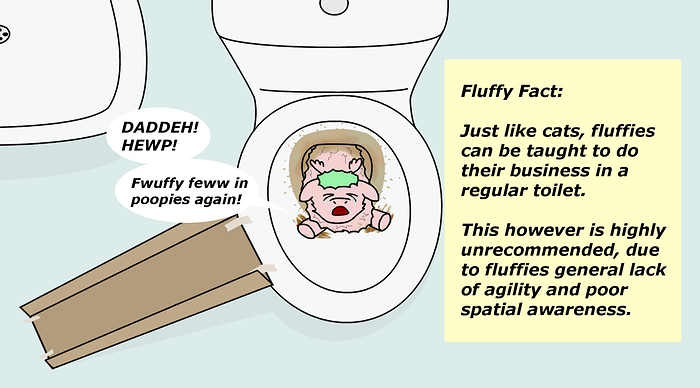 It's just not worth it. You could cover the toilet usong a piece of plywood with a hole, but putting it on and taking it off would just be a bother.
Besides, knowing fluffies, they can get stuck in that hole and hurt themselves.
this, but shitting on the fluffy
Poor baby, poor… stupid baby.
As you say mockingly "poopie babbeh get wostest sowy poopies"
This might be an excellent basic intelligence test. If a fluffy can learn to shit in a hole without falling in, it passes.
If it fails, flush.
… fell in again? How many times have you dug the little shit out of the shitter? I would've just flushed on the first fall.
I'm pretty sure a fluffy of that size would get stuck in the U bend.
you can probably wash it off just by flushing a bunch of times.
Hahaha you absolute bastard
Just get a piece of cardboard and cut a hole in it just a bit smaller than the fluffy. Aw who am I kidding, the little klutz would probably get stuck in it.
Fluffy would drown anyway, no matter how small your hole
~sighs~
Grabs the plunger and lifts fluffy slightly by head and supporting chest with hand so they dont break their neck while flushing to rinse off the soiled fluffy before moving over to tub for a proper cleaning.
~Ponders while bathing fluffy~
~grumbles~
Maybe some removable panels for cleaning, a few inches down that falls inward. Far enough to hopefully prevent stains to the fluffy but close enough to the lid that they can climb back out. Mark the ramps part of toilet so they dont climb out elsewhere and fall hopefully. Put a light sensor at the bottom that triggers when its broken and drops the content into the toilet then resets after 30 seconds.
~realizes they have been finished for a minute and takes fluffy out to dry before sending it off to play and heading to the garage to begin drawing out idea~
Especially if you have one of those bladed snakes you hand crank and can send down to break up the clog.
Problem is, I don't want to sit down and risk the fluffy pawing at me with wet hooves. That's just nasty.
Just piss and flush. Repeatedly.
I love moronbox sooo much
This is cruel and cute at the same time