Hello!
So here is a commission I did for RandomAp, about a Hasbio facility, in which they conduct a lot of experiments.
Text by RandomAP: (@anon68543914 )
The City of Springfield, Missouri; is a unique city unlike any other in the United States. When one visits this city, they fall in love with its unique Ozark charm and even more so with their cleanliness. Upon further inspection, visitors will realize there are no fluffies anywhere in the city or its outskirts. The residents are proud of this fact, but very unwilling to explain how they keep their city clean and fluffy free.
Twenty miles south of Springfield, deep in the forest one will find what appears to be a building hidden by trees. Surrounded by a chain link gate, one can feel an ominous aura emanate from the building. This is the dark secret of where the fluffies from Springfield go, the place they dare not speak about. A place of cruel experiments, industrial abuse, and cold neglect. This is their price for having a fluffy free city, an eternal monument to their crimes against life. They call this place, the Facility…
This is the first entry of a monthly anthology series collaboration, with many more to come. Remember that once a fluffy enters the Facility, they will die in the Facility.
---
Inside the Facility horrific experiments are conducted on their unwilling captives. In our first image, foals have been harvested for a psychological experiment on fear. Can a foal die from terror? How much fear can their little minds handle until they break? The foals are separated from their mothers and dumped into an enclosure in a dark room. Periodically loud and terrifying noises will fill the air, keeping the foals in a state of pure terror. All data is collected and disseminated for further experiments and product design.
In our second image, we have an experiment on how strong a mother's instinct can be when her foals are in peril. A mother fluffy is separated from here foals by a see-through window, watching her babies cry in terror and hunger for their mom. To see if they can alter the parental instinct of a mother's love, they flood the enclosure with experimental pheromones to see if they can make the fluffy mom ignore her starving babies. Perhaps this pheromone can help other cities deal with a fluffy's explosive rate of birth?
In the third image, we see that many fluffies who are not needed for any experiments are sent to the labor room to help offset the electrical costs of equipment. They are fed once a day and forced to walk continuously for the duration of the work time. Fluffies tend to last weeks in this room, but many will die from inadequate feeding and exhaustion. Sometimes a fluffy is too lazy to keep up or too defiant, they are to be pillowed and sent to the "Cleaning Room" as there is no longer a use for them.
Finally, all experiments eventually come to an end. Many fluffies will die, but others will live out their anticipated usefulness. Those who survive the experiments will be pillowed and tossed into the cleaning room as we toss the corpses of fluffies who die. Inspired by the infamous washroom of the Wolfram Foundation Shelter, the cleaning room (better known as the "wawa woom" by its inhabitants) are met with ta similar gruesome horror. The room is packed with dead and pillowed fluffies, its floors are caked with shit and blood. Feeding is once a week, with only the oldest and most inedible food we have available. Many fluffies may resort to eating the rotting corpses of other fluffies, to stave off the cruel death of starvation. Every three days the lights will shine brightly, and the room will be sprayed with ice cold water to help limit sanitation. This is a miserable room for fluffies, and some will even drown from this.
Unfortunately, this cleaning does little to solve the rampant issue of disease and parasites in the room, many fluffies will become sick and succumb to nasty illnesses. Finally, after thirty days in the cleaning room or if it reaches max capacity; it will be time to dispose of the inhabitants. The shower heads will turn to their alternative function and release a poisonous gas to kill all the survivors in this room of death, taking roughly five minutes to kill all inhabitants. Once all the inhabitants are confirmed dead, the floor opens up and sends the fluffies into a burn-pit to be properly disposed of as should all Bio-Waste. A fluffy that is brought to the facility, will die in the facility.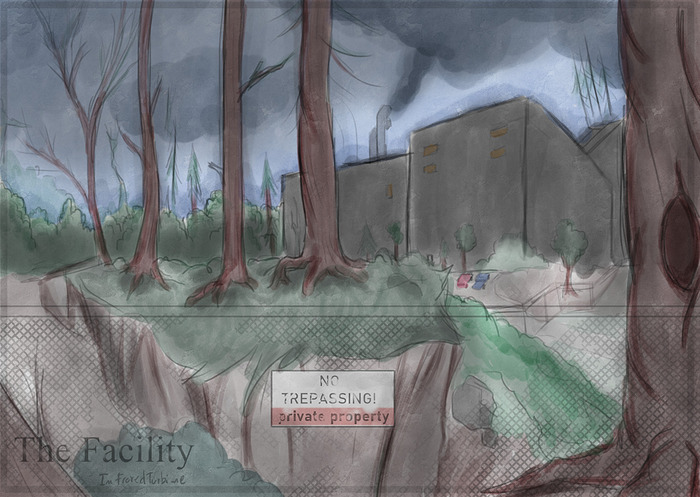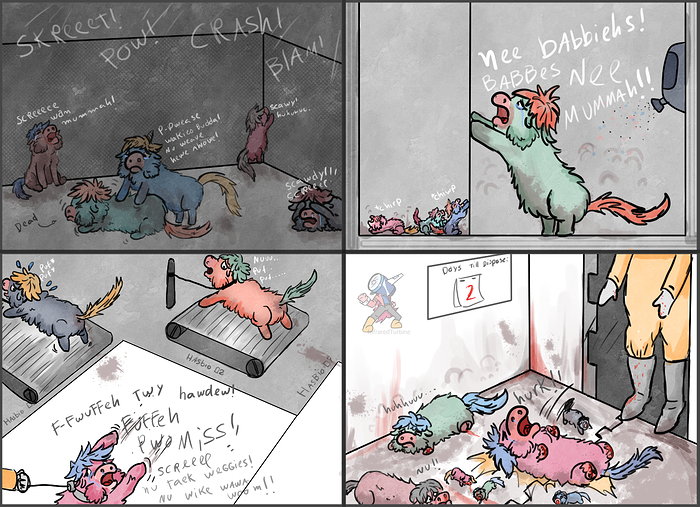 For commissions, illustrations and so on, please feel always free to contact me at any time! xD