Finally, I found the "fluffy artstyle" that suits me well. I'm very comfortable with this style, so…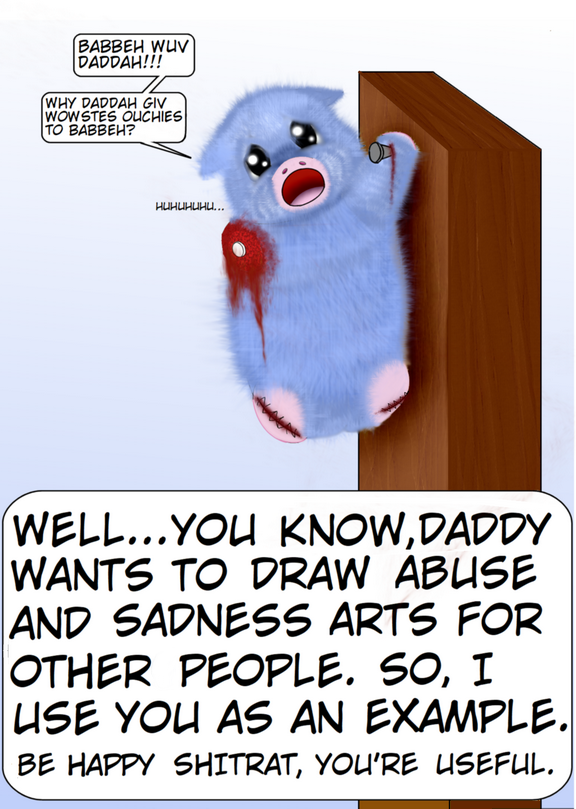 I'm not expert in fluffy commission prices, so, it will be simple :
- Fully colored art with fur, shades, simple background, textures, and everything : 15€
- About comics : first panel: 15€, then 5€ for each additionnal panels, up to 4.
To put it simply, 1 art : 15€ + 5€ for each additional panel. Minimum 15€, maximum 30€.
If your story unexpectly requires more than 4 panels, then I'll draw two more for free, for a total of 6 panels.
Only abuse and sadness art of course. I don't draw humans, except their hands. Everything is focused on our favorite shitrats.
Characters are limited to 5, but please, keep in mind I use A4 paper for my sketches (yes, I don't have graphic tablet) before the coloration, so the place on the paper is limited!
1 commission per person at a time.
Payments by paypal. Only in Euro. I'll give you my paypal adress when you'll contact me in private.
Well, I think that's all! I hope prices are fair and I can't wait to reveal your own cruel, devilish and twisted ideas!
For those who never see my art, here is some samples :
15 pages of Foal Torture comic
Cruel whipping for bad Babbeh by Marcus (this style is outdated)
STATUT : commission requests open!